The Fiction Addiction Story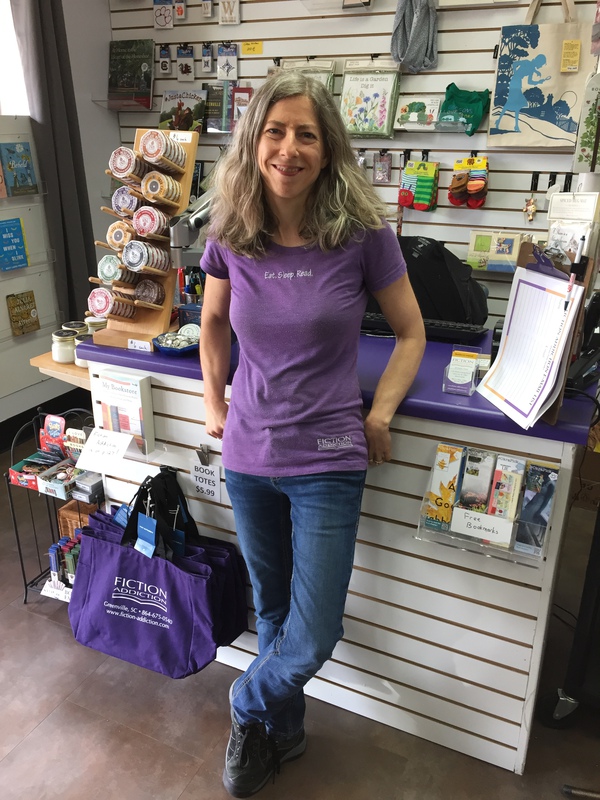 After working in New York for both publishing and internet startups, Jill Hendrix returned to Greenville, SC and founded Fiction Addiction in 2001. Today, Fiction Addiction is Greenville's friendliest independent bookstore.
Fiction Addiction was originally a used bookstore, but over time as Greenville's competitive landscape changed (The Open Book closed, Mr. K's moved in, etc.) we switched our product mix and now we carry new books and gifts, and host numerous author events. 
During the COVID-19 pandemic in April 2020, we moved to our current location. This is our 4th different storefront location over the years, but we always try to stay on Greenville's East Side. 
Why We Love What We Do
We believe that books can change lives. No matter what you read (even vampire novels count!), reading has strong positive benefits: it alleviates stress, increases empathy, improves vocabulary, and much much more.
Every so often, the perfect book at the perfect time generates a wonderful aha moment when something crystallizes in your life and you know you'll never be the same. Reading the book Essentialism by Greg McKeown was my aha moment.
Here are a few I've collected from some of the podcasts I listen to:
I'm a big fan of Brooke Castillo's podcast and I was thrilled when she shared her own aha reading story: "When I realized that I could learn and be influenced so heavily by just reading someone's book, I started to understand the power of a relationship with somebody that I had never even met. ... I was 19 years old and she [Robin Norwood] had a much more profound effect on me than anybody ever had by teaching me what she taught me in that book. The book was called Women Who Love Too Much."

 

Marketing guru Russell Brunson shares in his podcast how applying the concepts in a business book and seeming them actually work converted him into a reader.
We are collecting these aha reading moments and we'd love to hear yours.
Our Goal
Every reader has different tastes and your tastes may even change at different times in our life. My sister used to read heavy literary works and then she had two kids and no time. Now she loves lighter young adult novels. I used to read primarily fiction and yet in the past two years I've switched to nonfiction. Our goal is to help you find your perfect read for this moment in time.
Millions of books are published each year and we know this can feel overwhelming. Life is too short to waste time and money on "cheaper" books that you never end up finishing. The value we provide as an independent bookstore goes beyond price. Our goal is your satisfaction guaranteed. If we recommended a book that you didn't love, we are happy to switch it out for another.