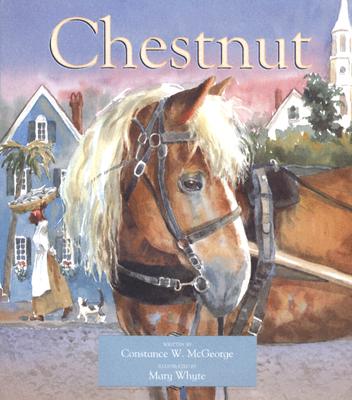 Stock Image
Author Name MCGEORGE, CONSTANCE W.
Title CHESTNUT
Binding HARDCOVER
Jacket Condition in Brand New jacket.
Publisher Peachtree Publishers 2004
ISBN Number 1561453218 / 9781561453214
Seller ID 9781561453214N
Peachtree Publishers 9/1/2004. New hardcover. in Brand New jacket. Later printing. Signed by the illustrator, Mary Whyte. Signed by author.
Publisher Description
Chestnut belongs to Mr. Decker, who runs a delivery service. Each morning at dawn, Mr. Decker hamesses his horse to the wagon to make deliveries around the city. On the morning of the mayor's daughter's birthday, there are important deliveries to be made: flour to the baker for Jenny's birthday cake, bows to the hatmaker for a birthday bonnet, and a sack of sugar to the candmaker to prepare sweets for the party guests. But when Mr. Decker oversleeps, Chestnut must set off alone, pulling the heavy wagon through the morning fog, following the familiar steps to the merchants' stores to make the special deliveries. Constance McGeorge has written a charming tale of a steadfast horse whose faithfulness saves the day. Illustrator Mary Whyte's lovely paintings bring Chestnut to life and perfectly recreate the bustle of turn-of-the-century city life. As they turn the pages, young readers will almost hear the sound of the horse's iron shoes clattering over the cobblestones.
Price = 16.95 USD