About Us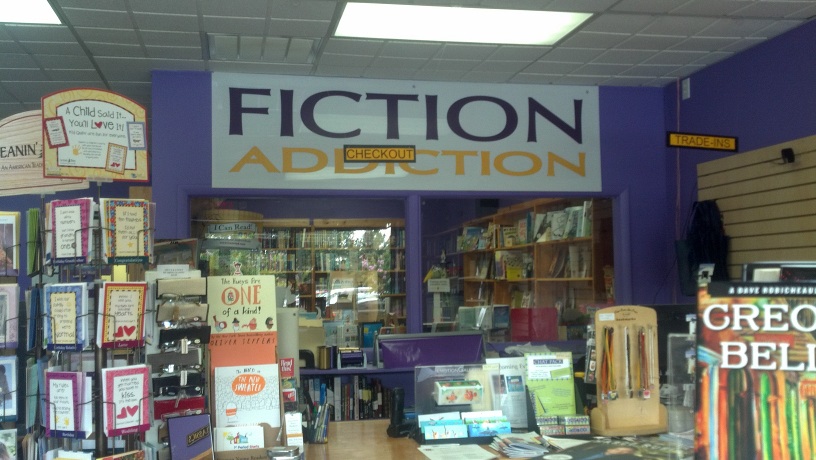 Fiction Addiction, founded in 2001, is an independent bookstore serving the Eastside of Greenville, SC. As of July 16, 2012 our new address is 1175 Woods Crossing Rd. #5, Greenville, SC 29607. We are in the Shops by the Mall center behind Haywood Mall, alongside Southern Fried Green Tomatoes, Jimmy John's, and Boardwalk.

We sell books of all flavors: fiction and nonfiction, new and used, paperbacks and hardcovers, and books for adults and children.

We also carry gift items, host numerous author events, and can special order anything we don't have in stock.
TRADE-INS AND DONATIONS

We are no longer accepting used books for trade credit. You are welcome to donate used books to us if you wish, and any trade credit you have already been issued will remain valid for 5 years after the date it was issued.
OUR HISTORY

Fiction Addiction is owned and managed by Jill Hendrix (nee McFarlane). Mrs. Hendrix grew up in Greenville but had been living in New York City for the past 5 1/2 years before opening Fiction Addiction. She has worked for the Editorial department of St. Martin's Press and several internet startups and is an avid reader.
Fiction Addiction opened its doors on May 7, 2001.
OUR HOURS

Our hours are Monday through Friday, 10am-5:30pm and Saturdays 11am-4pm.
MAILING LIST

Sign up here to receive newsletters and special savings coupons!

Store Policies
DISCOUNTS
Greenville County K-12 public school educators will receive a 10% in-store discount on their entire purchase when showing valid identification.
PAYMENT METHODS
We accept Visa, Mastercard, American Express, Discover, PayPal, checks, money orders, and certified checks. Personal checks, certified checks, and money orders must be in US funds and made payable to "Fiction Addiction".
Checks over $50 from first-time customers will be held until payment has cleared, usually 10 days. Mail checks and money orders to:

Fiction Addiction
1175 Woods Crossing Rd. #5
Greenville, SC 29607
PayPal payments should be sent to: [email protected]. Shipments will be held until funds have been credited to our PayPal account.
SHIPPING
We ship both domestically and internationally. For domestic shipments, we typically use the US Postal Service. Large shipments may be sent via FedEx. We try to ship by the next business day after we receive your order. To determine what you will be charged for shipping and handling, please add to your shopping cart all the items you are interested in, click checkout, and follow the on-screen instructions. You will have an opportunity to cancel the order after you are shown the shipping and handling charges. If the shipping charges turn out to be much higher than our actual cost (i.e., we could fit the book in a small Global Priority envelope instead of the large one, etc.) then we will refund an appropriate portion of the shipping charge.
REFUNDS
Satisfaction Guaranteed! Upon prior notice, purchases may be returned for any reason within 10 days of receipt.
SUBJECT TO PRIOR SALE
Please understand that we sell on other online venues as well as in our brick-and-mortar store and thus all orders are subject to prior sale.
TRADE-INS
As of 1/1/16, we will no longer accept trade-ins for store credit. Any credit that has already been issued will remain valid until the end of the year.