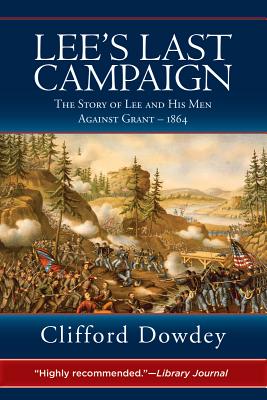 Stock Image
Author Name DOWDEY, CLIFFORD
Title LEE'S LAST CAMPAIGN: THE STORY OF LEE & HIS MEN AGAINST GRANT, 1864
Binding PAPERBACK
Book Condition .
Publisher SkyHorse Publishing 2011
ISBN Number 1616084111 / 9781616084110
Seller ID 9781616084110N
SkyHorse Publishing 9/13/2011. New paperback.
Publisher Description
By May 1864, General Robert E. Lee had been transformed from a young soldier into a gray-haired patriarch of the Confederate cause. As Lee struggled to keep his ragged soldiers alive, he faced pressure from two fronts. Grant s Union Army not only had superior numbers, but a steadfast infra-structure or railroads and industrialized supply routes. Lee s Last Campaign is a triumph of historic research and elegant writing. In this essential analysis of General Lee s military strategy, Dowdey follows the triumphs and tragedies of the Army of Northern Virginia as it breathed its last gasps at the end of the Civil War.
Price = 14.95 USD