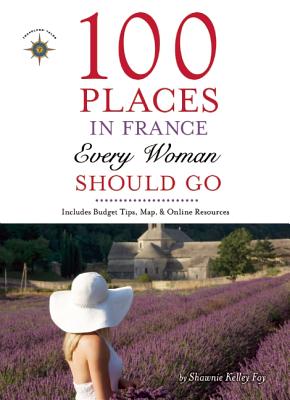 Stock Image
Author Name DESANCTIS, MARCIA
Title 100 PLACES IN FRANCE EVERY WOMAN SHOULD GO
Binding PAPERBACK
Book Condition .
Publisher Travelers' Tales 2014
ISBN Number 1609520823 / 9781609520823
Seller ID 9781609520823N
Travelers' Tales 11/11/2014. New paperback.
Publisher Description
Whether a die-hard Francophile or suffering a serious case of wanderlust, "100 Places in France Every Woman Should Go" encourages women to discover a special side of France dedicated to the feminine.
Author Marcia DeSanctis draws on two decades of traveling and living in France. In this book, she leads women through the sparkling City of Light, along the sultry Cote d'Azur, and through the rugged mountains in search of la France feminine.
Each of the thirteen categories with its 100 entries captures France's various personalities. Included here are eight of Europe's top 25 most-visited attractions, such as Notre Dame Cathedral and the Eiffel Tower, as well as places far off the beaten path. Make a rigorous trek to one of the Cathar Castles precariously perched in the Pyrenees, or tap into "Sacred Feminine France" with a pilgrimage to Saintes-Maries-de-la-Mer.
From sexy to sublime, feminine to flamboyant, romantic to rowdy, "100 Places in France Every Woman Should Go" proves the allure of France for women goes well beyond the pursuits of food, fashion, and romance.

Price = 19.95 USD