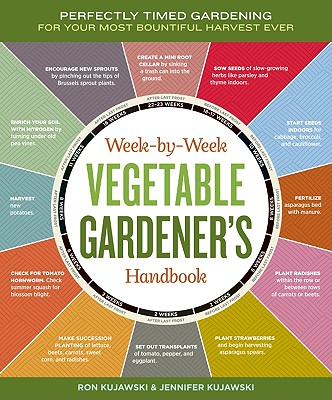 Stock Image
Author Name KUJAWSKI, JENNIFER
Title WEEK-BY-WEEK VEGETABLE GROWER'S HANDBOOK: MAKE THE MOST OF YOUR GROWING SEASON
Binding SPIRAL-BOUND
Book Condition .
Publisher Storey Books 2011
ISBN Number 1603426949 / 9781603426947
Seller ID 9781603426947N
Storey Books 1/8/2011. New .
Publisher Description
Knowing exactly when to start vegetable seeds indoors, transplant them into the ground, pinch off the blossoms, and pick for peak flavor is the secret to enjoying bountiful harvests all through the season. In "Week-by-Week Vegetable Gardener s Handbook," authors Ron and Jennifer Kujawski eliminate the guesswork with weekly to-do lists that break gardening down into easily manageable tasks. Suitable for all gardening zones, the book offers easy instructions for setting up a perfectly personalized schedule based on your last frost date. Whether you're wondering when to plant strawberries, check for tomato hornworm, or harvest carrots, you'll see at a glance exactly when and how to do it, for the biggest yields and the best vegetable-growing experiences ever.
Price = 14.95 USD