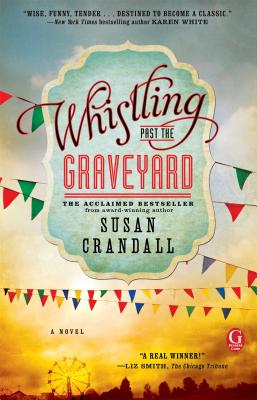 Stock Image
Author Name CRANDALL, SUSAN
Title WHISTLING PAST THE GRAVEYARD
Binding PAPERBACK
Book Condition .
Publisher Gallery Books 2014
ISBN Number 1476740046 / 9781476740041
Seller ID 9781476740041N
Gallery Books 2/4/2014. New paperback. 2014 SIBA Fiction Book Award winner. Store pick, recommended by Jill: Fall in love with spunky Starla Claudelle, who runs away from a strict grandmother Signed by author.
Publisher Description
"Whistling past the graveyard." That's what Daddy called it when you did something to keep your mind off your most worstest fear. . . .
In the summer of 1963, nine-year-old Starla Claudelle runs away from her strict grandmother's Mississippi home. Starla's destination is Nashville, where her mother went to become a famous singer, abandoning Starla when she was three. Walking a lonely country road, Starla accepts a ride from Eula, a black woman traveling alone with a white baby. Now, on the road trip that will change her life forever, Starla sees for the first time life as it really is--as she reaches for a dream of how it could one day be.
Price = 16.00 USD