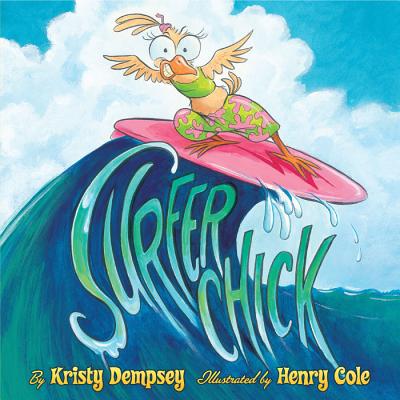 Stock Image
Author Name DEMPSEY, KRISTY
Title SURFER CHICK
Binding HARDCOVER
Jacket Condition in Brand New jacket.
Publisher Harry N. Abrams 2012
ISBN Number 1419701886 / 9781419701887
Seller ID 9781419701887N
Harry N. Abrams 5/1/2012. New hardcover. in Brand New jacket. Later printing. Illustrated by Henry Cole. Signed by author.
Publisher Description
""Two birds of a feather, a chick and her dad, lived by the shore, in a radical pad. A legend in surfing, Chick's dad ruled the Roost. Chick's dream was to learn every move he produced.""
So begins the story of a little chick and her dad who take to the beach so she can finally learn how to surf. At first Chick's mood is foul as she struggles through some gnarly waters, but soon she is catching waves on her own board and even doing righteous tricks, just like her rad dad
Filled with cool surf lingo, this sweet rhyming picture book is perfect for summer at the beach and for celebrating the love between a father and a daughter.
Praise for "Surfer Chick"
STARRED REVIEWS
"A most expressive chicken makes a splash in this winning title about learning to surf. Dempsey keeps her groovy, rhyming text tight to create a raplike beat that colorfully describes a young chick's adventures tackling the waves. A guaranteed 'Cowabunga '"
--"Kirkus Reviews," starred review"
"
"This is a sweet, spunky story about perseverance and gaining confidence. Acrylic paint and colored pencil with a hot press watercolor make the sunsets dynamic and bright. Totally awesome ""
"--"School Library Journal," starred review"
""Rollicking, righteous fun."
-"People magazine""
""
"AWARD:
HONORS winner: 2012 National Parenting Publications Book Awards"
""
"
Price = 17.95 USD