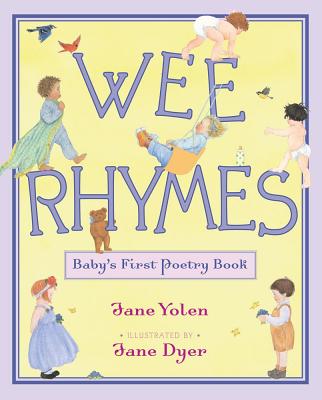 Stock Image
Author Name YOLEN, JANE
Title WEE RHYMES: BABY'S FIRST POETRY BOOK
Binding HARDCOVER
Jacket Condition in Brand New jacket.
Publisher Simon & Schuster 2013
ISBN Number 1416948988 / 9781416948988
Seller ID 9781416948988N
Simon & Schuster 3/5/2013. New hardcover. in Brand New jacket. Later printing.
Publisher Description
A favorite author and artist create an endearing collection of new and favorite illustrated rhymes and poems ideal for sharing.
A baby's day is full of meaningful moments: Time for cuddles, time for play, time for games, time for a nap, time for dinner, time for a bath, time for bed...and always, always, time for love. This joyous collection of more than fifty original poems and rhymes is divided into sections that celebrate each part of a young child's daily routine. An anthology of new and favorite rhymes accompanied by gentle, evocative illustrations is a perfect gift for showers and a must-have addition to any child's bookshelf.
Price = 19.99 USD