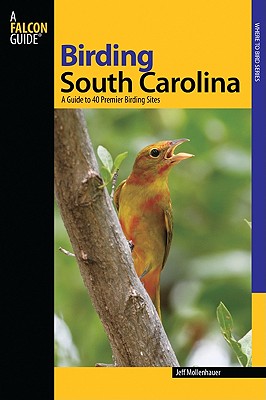 Stock Image
Author Name MOLLENHAUER, JEFF
Title BIRDING SOUTH CAROLINA: A GUIDE TO 40 PREMIER BIRDING SITES
Binding PAPERBACK
Book Condition .
Publisher Falcon Publishing 2009
ISBN Number 0762745797 / 9780762745791
Seller ID 9780762745791N
Falcon Publishing 4/1/2009. Clearance book (50% or more off list price). New paperback.
Publisher Description
South Carolina is a birder's paradise, with more than 480 species having been recorded in the state. Christmas bird counts along the coast often yield some of the highest species totals on the entire East Coast. Highly sought-after birds--such as wood stork, swallow-tailed kite, purple gallinule, red-cockaded woodpecker, swainson's warbler, painted bunting, and Bachman's sparrow--can be found with ease during the appropriate season. "Birding South Carolina" provides detailed descriptions of forty premier birding locations across the state. For each location, detailed information is given on which birds one is likely to see--whether in cypress swamps or salt marshes, on beaches or mountains--and when to find them.
Price = 10.98 USD