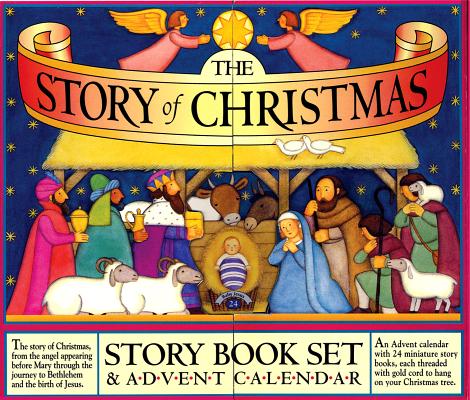 Stock Image
Author Name PACKARD, MARY
Title STORY OF CHRISTMAS STORY BOOK SET & ADVENT CALENDAR
Binding BOXED SET
Book Condition .
Publisher Workman Publishing Company 2009
ISBN Number 0761152504 / 9780761152507
Seller ID 9780761152507N
Workman Publishing Company 10/20/2009. New boxed set. This innovative Advent calendar features 24 jewel-like miniature books that are meant to be opened and read one per day from December 1st through Christmas Eve. Each book is one of four different trim sizes and features a gold thread loop so that after it's been read it can be hung on a Christmas tree.
Publisher Description
It's back "The Story of Christmas," the innovative Advent calendar, story book set, and tree-trimming keepsake.
Wonderfully illustrated and brimming with holiday spirit, the calendar features 24 jewel-like miniature board books nestled in a three-paneled, stand-alone backer. The books are numbered 1 through 24, and, like the peek-a-boo windows on an Advent calendar, are meant to be opened one per day from December 1st through Christmas Eve. Read in sequence, they capture the magic of the first Christmas, from Gabrie''s visit to Mary (Book 4) to the Three Wise Men gazing at the star (Book 9) to Jesus' birth (Book 24). Each book is one of four different trim sizes and features a gold thread loop so that after it's read, it can be hung on the Christmas tree
Price = 15.95 USD