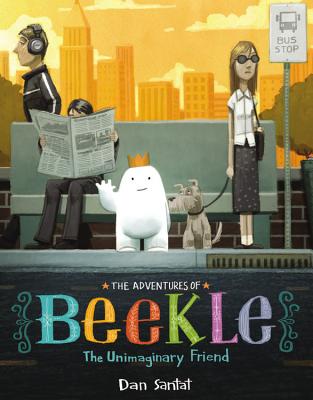 Stock Image
Author Name SANTAT, DAN
Title ADVENTURES OF BEEKLE: THE UNIMAGINARY FRIEND
Binding HARDCOVER
Jacket Condition in Brand New jacket.
Publisher Little, Brown and Company 2014
ISBN Number 0316199982 / 9780316199988
Seller ID 9780316199988N
Little, Brown and Company 4/8/2014. New hardcover. in Brand New jacket. Later printing. Store pick, recommended by Melissa: Beekle lives in a land of imaginary friends, waiting to be imagined by his perfect friend. Time passes, and all of Beekle's fellow imaginary Signed by author. Caldecott Award Medalist.
Publisher Description
This magical story begins on an island far away where an imaginary friend is born. He patiently waits his turn to be chosen by a real child, but when he is overlooked time and again, he sets off on an incredible journey to the bustling city, where he finally meets his perfect match and-at long last-is given his special name: Beekle.
"New York Time"s bestselling and award-winning author and illustrator Dan Santat combines classic storytelling with breathtaking art, creating an unforgettable tale about friendship, imagination, and the courage to find one's place in the world.

Price = 17.99 USD