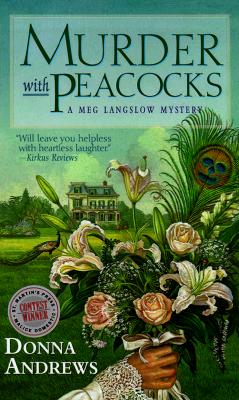 Stock Image
Author Name ANDREWS, DONNA
Title MURDER, WITH PEACOCKS (MEG LANGSLOW, NO 1)
Binding PAPERBACK
Book Condition .
Publisher St. Martin's Press 2000
ISBN Number 0312970633 / 9780312970635
Seller ID 9780312970635N
St. Martin's Press 1/1/2000. New paperback. This is the first in a series featuring sculptor Meg Langslow. This bubbly, laugh-out-loud debut follows Meg as she returns to her Virginia hometown for a summer to fulfill her duties as maid of honor for three upcoming weddings. Matters get even more complicated when her mother's fiancee's rude and annoying sister turns up dead. Anthony Award Winner for First Novel. Agatha Award Winner for First Novel.
Publisher Description
Three Weddings...And a Murder
So far Meg Langslow's summer is not going swimmingly. Down in her small Virginia hometown, she's maid of honor at the nuptuals of three loved ones--each of whom has dumped the planning in her capable hands. One bride is set on including a Native American herbal purification ceremony, while another wants live peacocks on the law. Only help from the town's drop-dead gorgeous hunk, disappointingly rumored to be gay, keeps Meg afloat in a sea of dotty relatives and outrageous neighbors.
And, in whirl of summer parties and picnics, Souther hospitality is strained to the limit by an offenseive newcomer who hints at skeletons in the guests' closets. But it seems this lady has offended one too many when she's found dead in suspicious circumstances, followed by a string of accidents--some fatal. Soon, level-headed Meg's to-do list extends from flower arragements and bridal registries to catching a killer--before the next catered event is her own funeral...

Price = 7.99 USD