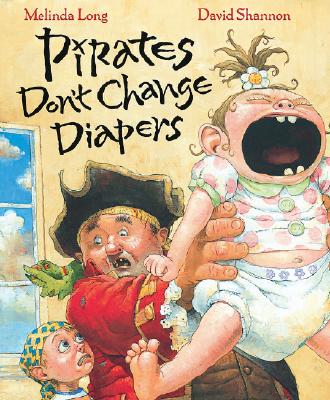 Stock Image
Author Name LONG, MELINDA
Title PIRATES DON'T CHANGE DIAPERS
Binding HARDCOVER
Book Condition Good
Jacket Condition in Good jacket.
Publisher Harcourt, Inc. 2007
ISBN Number 0152053530 / 9780152053536
Seller ID 9780152053536
Harcourt, Inc. 3/1/2007. Used hardcover. Good in Good jacket. Later printing. Illustrated by David Shannon. Plucky young Jeremy Jacob is reunited with Captain Braid Beard and his crew of daft, dentally challenged buccanners in a follow-up to the bestselling How I Became a Pirate. This time, Jeremy clearly has the upper hand: he won't let the pirates dig up the treasure they buried in his backyard at the end of the previous book until they help him placate his cranky, baby sister, Bonney Anne. Remainder mark.
Publisher Description
When the pirate crew turns up at Jeremy Jacob's house and accidentally wakes his baby sister, that wee scallywag howls louder than a storm on the high seas. Sure, there's buried treasure to be found, but nobody's digging up "anything" until Bonney Anne quits her caterwauling. So, quicker than you can say "scurvy dog," Braid Beard and his swashbuckling pirates become . . . "babysitters? "Blimey
This hilarious companion to "How I Became a Pirate" reveals that minding the nursery can be even more terrifying than walking the plank--especially if you're a pirate.
Price = 10.19 USD