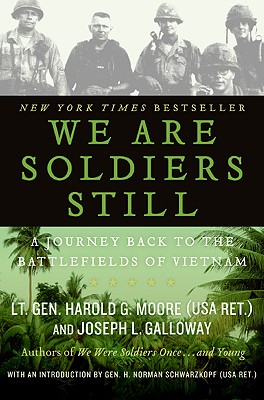 Stock Image
Author Name MOORE, HAROLD G.
Title WE ARE SOLDIERS STILL: A JOURNEY BACK TO THE BATTLEFIELD OF VIETNAM
Binding PAPERBACK
Book Condition .
Publisher HarperCollins 2009
ISBN Number 006114777X / 9780061147777
Seller ID 9780061147777N
HarperCollins 7/28/2009. New paperback. Signed by co-author, Joseph L. Galloway.
Publisher Description
Lt. Gen. Harold Moore and Joseph Galloway return to Vietnam's Ia Drang Valley more than four decades after the battle they recalled in their #1 New York Times bestseller We Were Soldiers Once . . . and Young. Renewing their relationships with ten American veterans of the fabled conflict--and with former adversaries--the authors explore how the war changed them all, as well as their two countries.
We Are Soldiers Still is an emotional journey back to hallowed ground, putting a human face on warfare as the authors reflect on war's devastating cost.
Price = 14.99 USD