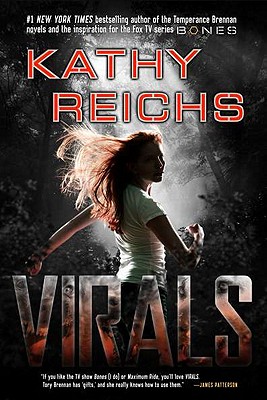 Stock Image
Author Name REICHS, KATHY
Title VIRALS (VIRALS, NO 1)
Binding PAPERBACK
Book Condition .
Publisher Razorbill 2011
ISBN Number 1595144269 / 9781595144263
Seller ID 9781595144263N
Razorbill 8/23/2011. New paperback. 2012-13 SC Young Adult Book Award Nominee. Co-written by Brendan Reichs.
Publisher Description
Adventure is in Tory Brennan's blood. After all, she's the grandniece of world-famous forensic anthropologist Temperance Brennan. Always up for a challenge, Tory and her science-geek friends spend their time exploring the marshlands of Loggerhead Island, home to the very off-limits Loggerhead Island Research Institute, where something strange is going on. After rescuing a stray wolfdog pup from a top-secret lab, Tory and her friends are exposed to a rare strain of canine parvovirus, changing them--and their DNA--forever. Now they are more than friends. They are a pack. They are Virals. And they're dangerous to the core. But are they unstoppable enough to catch a cold-blooded murderer?
Price = 9.99 USD