About Us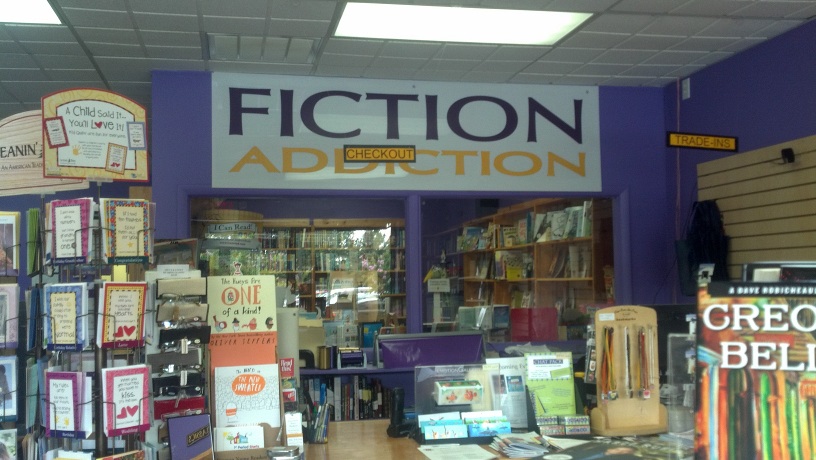 Fiction Addiction, founded in 2001, is an independent bookstore serving the Eastside of Greenville, SC. As of July 16, 2012 our new address is 1175 Woods Crossing Rd. #5, Greenville, SC 29607. We are in the Shops by the Mall center behind Haywood Mall, alongside Southern Fried Green Tomatoes, Jimmy John's, and Boardwalk.

We sell books of all flavors: fiction and nonfiction, new and used, paperbacks and hardcovers, and books for adults and children.

We also carry gift items, host numerous author events, and can special order anything we don't have in stock.
TRADE-INS AND DONATIONS

We are no longer accepting used books for trade credit. You are welcome to donate used books to us if you wish, and any trade credit you have already been issued will remain valid for 5 years after the date it was issued.
OUR HISTORY

Fiction Addiction is owned and managed by Jill Hendrix (nee McFarlane). Mrs. Hendrix grew up in Greenville but had been living in New York City for the past 5 1/2 years before opening Fiction Addiction. She has worked for the Editorial department of St. Martin's Press and several internet startups and is an avid reader.
Fiction Addiction opened its doors on May 7, 2001.
OUR HOURS

Our hours are Monday through Friday, 10am-5:30pm and Saturdays 11am-4pm.
MAILING LIST

Sign up here to receive newsletters and special savings coupons!