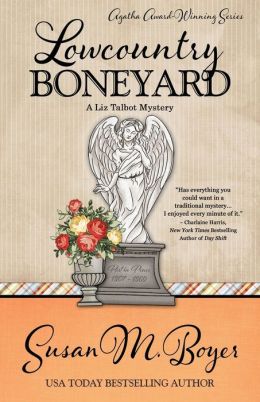 Lowcountry Boneyard
by Susan M. Boyer
(Henery, paperback, $15.95, on sale 4/21/15)

Lowcountry Boneyard is another fabulous entry in the Liz Talbot mystery series as Liz takes the case of finding the missing Charleston heiress, 23-year-old Kent Heyward. We are again entertained by Lizís sarcasm and humor and her attention to the smartest accessories any respectable southern girl would be sporting. The case dredges up family secrets hidden for years by Charleston aristocrats, and if not for the help of Lizís dead best friend and guardian spirit, Colleen, Liz and her loved ones might not be around for another case. Smart and witty, the mystery is serious and believable, and Liz Talbot and her entourage of fun and funky friends, family, and associates are not to be missed.
Read Local -- Susan is a Greenville author! Want a personalized copy? Just let us know!
Recommended by Nancy M., store volunteer
Come to Susan's launch party on Tuesday, April 21st, from 5-7pm!
Preorder a copy of Lowcountry Boil and fill out this entry form and be entered to win a Charleston Getaway from the author! Click here for more details.